Convert Video/DVD to Apple TV -Guide
You'll have to create/convert Video/DVD for Apple TV, or buy compatible content, as limited video format support and glitches in many previously iPod-converted video files will render even an existing iTunes video library in need of substantial updating; older iTunes Store videos look downright bad on larger HDTVs, and some videos don't display properly on any TV. Does not include video or audio cables of any sort, and may not be compatible with certain TVs that it can physically connect to. Included hard disk is of even lower usable capacity than expected, takes a very long time to fill over standard wireless connection, and USB port does not allow connection of a second dedicated media drive. Music and photo features are acceptable but not mind-blowing. Lack of any volume control will bother some users. Pricey given the actual value it adds.
The breaking news surrounding the AppleTV is flying around the net almost faster than one can track. What a great thing. The MP4Converter.net Review Team are testing the limits of this diminutive device and what we're seeing is quite encouraging. That's not to say that, hacks aside, the AppleTV is anything less than a great little box.
Will it Work With Your TV?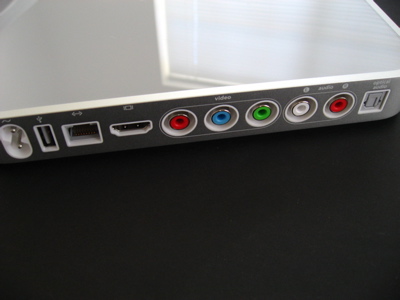 Unlike a DVD player, which gets loaded with content via individual discs, Apple TV receives content exclusively from Apple's iTunes 7.1 (or later) software. There's no way to use an iPod or a separate hard disk full of movies with its built-in, but intentionally crippled USB 2.0 port; the port will charge your iPod, but otherwise is supposedly there for diagnostic and repair purposes only. Content gets delivered to Apple TV's hard drive via a wireless or wired Ethernet connection with your computer, and iTunes manages the flow and delivery of all of that content, without exception.
Other than having to download the free iTunes software from the Internet - no software CD is included - Apple TV saddles its buyers with another responsibility. Since the package includes no video or audio cables, you'll have to procure them yourself. Ports on the unit's back accommodate the currently popular HDMI and component video standards, as well as analog and optical/TOSLINK for audio output. Audio connections should be a snap, but video is another issue: you'll need to be sure Apple TV will work with your TV.
Setup and Interface
With cables in hand, setting up Apple TV is fairly easy. Regardless of the type of wireless network you're using (see Performance Concerns, below), once iTunes 7.1 has been installed on your PC or Mac, and Apple TV has been plugged into your television set and the wall, the process is nearly automatic. You'll pick a language, connect Apple TV to your network by name and password, watch a brief glamour video, and sit back as the unit sends a signal to iTunes that it's ready to tango.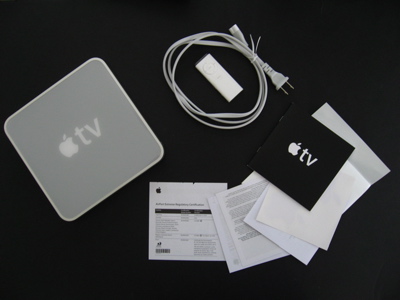 How to Encoding Video/DVD
Apple doesn't exactly make it simple to watch content that's not purchased from iTunes, and the Apple TV was clearly meant to be an iTunes portal for the living room. The Apple TV's spec page indicates that it supports a very limited number of file formats: anything from the iTunes store, H.264/AVC movies, and MPEG-4 video. For the average user, these will likely be fine, and it's not hard encoding one's own movies to fit one of these formats. On both the PC and the Mac, a user can employ Apple TV Video Converter and DVD to Apple TV Converter (from mp4converter.net) to open almost of different formats/DVDs and then encode them "for Apple TV".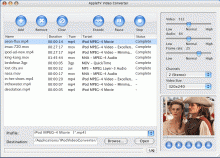 Key Features (for Mac and PC)
Support Apple TV, Apple TV 720p and new iPod 30GB and 80GB with resolution of 640 by 480 pixels Video.
Fast Conversion Speed, support multithreading and batch conversion
Plentiful Control Functions, you can pause, stop and continue at any moment during the conversion
You can check the parameters of the source audio or video files
Once a video is exported for Apple TV, the user can then import the movie into his or her iTunes library and display it on the Apple TV through the "Movies" submenu given that your file conforms to specific resolution and bitrate parameters specified on the Apple TV specifications page:
· H.264/AVC and protected H.264/AVC (from iTunes Store): Up to 5 Mbps, Progressive Main Profile (CAVLC) with AAC-LC audio up to 160 Kbps (maximum resolution: 1280 by 720 pixels at 24 fps, 960 by 540 pixels at 30 fps)
· MPEG-4: Up to 3 Mbps, Simple Profile with AAC-LC audio up to 160 Kbps (maximum resolution: 720 by 432 pixels at 30 fps)
HD video and music
On an HDTV, the currently-available content from iTunes is obviously not going to take advantage of the TV's capabilities. All that can be done is to encode your own HD videos—with Apple TV Video Converter and DVD to Apple TV Converter—or wait for Apple to add HD content to iTunes.
Streaming music to the Apple TV is as simple as streaming video. You can navigate through your playlists easily from any computer that's set up as a source, or through whatever has been synced to the Apple TV's hard drive. The Apple TV supports AAC, MP3, MP3 VBR, Apple Lossless, AIFF, and WAV audio formats—practically anything that iTunes can play. The user can play podcasts and audio books that are bought from iTunes, but not audiobooks that have been purchased through other iTunes-compatible sources like Audible.com. This has enraged many an audiobook fan, and it's not entirely clear what the reason for this limitation is. The Apple TV Video Converter and DVD to Apple TV Converter can also make your movie to audio format so that you might listen on Apple TV easily.
Setup
Setting up the Apple TV is extremely simple. After hooking up the appropriate cables to the appropriate ports on the television, the Apple TV is automatically powered on by plugging it in. There is no on/off button on the device—it's obviously meant to be left on. This may work some power-saving enthusiasts into a tizzy, but you can put the Apple TV into standby mode by pressing and holding the play/pause button on the remote for about six seconds.
Upon displaying a rather visually-pleasing startup movie, the Apple TV asks what language you'd like it to use and then what resolution you want. On an SDTV, the Apple TV appears to automatically select 480i as its default resolution, but you are able to select any resolution from the list. I had initially worried that resolution selection would perplex people like our parents, who wouldn't know 1080i from 480p any better than they know how to identify a RAM chip out of a collection of circuit boards. However, while the screen may go berserk upon selecting an incompatible resolution, the Apple TV reverts back to the default, functional resolution if the user fails to confirm his or her choice after a short period of time. On the 42-inch HDTV that we tested the device out with, the Apple TV selected 720p as the default resolution.

HDMI resolution list
The Apple TV then tries to connect to a wireless network and allows you to choose among a list of networks that it sees. The device supports up to 802.11n for high-speed streaming and syncing, but also has a wired Ethernet port for those oldschool users. Entering a password for a protected WAP is slightly annoying with the on-screen keyboard (especially for long passwords), but not difficult.
In the Settings menu, you can adjust things such as HDMI brightness, turn off the clicking sound effects when you navigate through the menus, pair new remotes with the system, change languages, turn on Apple's "Sound Check"—a feature that tries to normalize the volume of music across your music library so that you're not surprised by suddenly loud songs after listening to quieter ones—and update the device's software. When the user selects this option, the Apple TV finds updated software automatically from the Internet and updates itself without any further user interaction. This should make it simple in the future for Apple to push through updates to its stconverted-down version of OS X on the device, as well as firmware updates and the like.
In order to stream content from a computer, the user must tell the Apple TV to connect to a new iTunes library. It then displays a code on the screen which must be entered onto the desired computer. When the Apple TV is in this mode, iTunes on the computer displays an Apple TV icon in its list on the left. Entering the code from the TV then authorizes the Apple TV to stream content from that iTunes library.

Apple TV gives you a code to hook up to iTunes
You can now stream from any iTunes library of your choosing. Apple TV can stream anything that iTunes can play. Almost. We'll get to that momentarily.
The Apple TV can list content (namely TV content) by date or grouped by show, with the listing on the right side of the screen and the show title, description, and other information to the left. This same behavior is found in the movie listing on the Apple TV.
Now, how about putting some content on there from your own collection? Let's turn to video quality and encoding.