Philips portable media player PMC7230 - Mp4 Converter
Here is a new portable media player which comes from Philips, the PMC7230 portable media player. This portable media player features a 3.5" color display, a 30GB hard drive, and support for PlaysForSure Windows Media files. Like the other portable media players this PMC7230 also supports MP3 and MPEG-4 files. This portable media player also has integrated A/V input, with which help you can record the video source.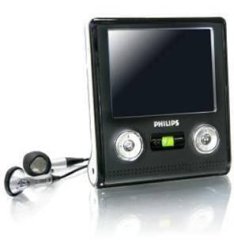 Till now you may be sick about the portable media players, but wait a second, this PMC7230 PMP brings a little freshness to the portable media players. This PMC7230 portable media player has a swiveling arm at the back which enables you to prop it up just as a photo frame on your desk. Therefore you can enjoy viewing your favorite movies without holding this PMC7230 PMP. The battery of this PMC7230 PMP can power 18 hours for audio and 5 hours for video. While good thing doesn't come cheaply, this portable media player will cost you $350.