iPhone Stylus and Touchscreen Cleaning Kit - MP4Converter
Touch screen gizmos are all very impressive but you have to touch them a lot. And because your fingers are greasy, mucky and coated in a layer of unidentifiable gunk, beloved screens soon resemble windows dipped in chip fat and sprinkled with dust, dandruff and gawd knows what else. So thank goodness for the iPhone Stylus and Touchscreen Cleaning Kit.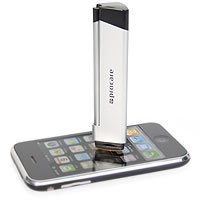 Forget the snazzy name (and you probably will), this is the world's first 'wet cleaning' system for touch screen gadgets, and it'll keep your smartphone, iPhone, PSP or whatever looking like it's just stepped out of the salon.
Simply pop off this ultra sleek doodah's cap to reveal a sponge tip that soaks up special cleaning fluid from an internal (refillable) reservoir. Then rub the tip over your gizmo to 'wet clean' its surface. Finally give it a buff using the included micro-fibre carry-pouch. Genius.
It's a bit like one of those all-in-one shoe cleaning thingies, only much smaller and rubbish at cleaning shoes. It even comes with an integrated soft-tipped stylus for all you sausage-fingered gadgeteers who keep calling the local curry house when you're trying to access your emails. Don't ask how but this ingenious pen-like doodah somehow fools touch screen devices into thinking it's a finger, so you can whizz through menus without getting your gizmo greasy.
As well as removing dust, stains and fingerprints, the Cleaning Kit provides an anti-static, anti-bacterial finish so screens stay cleaner for longer. Plus you won't catch some weird lurgee if greasy-pawed mates have been having a fiddle.
Did we also mention that this soon-to-be indispensable bit of kit includes a nifty pin to help remove obstinate iPhone SIM cards? We didn't, did we? And that's because we've been so busy polishing our gizmos we really can't concentrate. So get ordering, and don't just keep your screens nearly clean, keep 'em really clean.
With this iPhone cleaning kit, we can make iPhone screen clean as crystal. So if you have dreamed of watching your favorite movie in iPhone, now it's time. With 4Media iPhone Video Converter (Win/Mac) or DVD to iPhone Converter (Win/Mac), you can do it without worrying the grubby fingerprints and dirt all over your new iPhone or iPod touch screen.