How To Convert PDF to Word Doc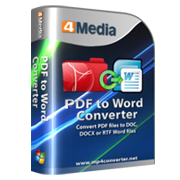 Do you have some PDF document and want to view and edit it in Word? Here we will show you how to convert PDF to Word document.
PDF, full named PDF Document Format, is an electronic file Format. This file format has nothing to do with operating system platform, that is to say, PDF files are working in Windows, Unix or apple's Mac OS operating systems. This feature makes it an ideal document format on Internet to release electronic documents and digital information transmission. More and more electronic books, product description, company documents, network information and Email is starting to use PDF files.
If you download a PDF to Word converter software, it will become so easy. 4Media provides a great PDF to Word Converter for users to download, and it has pretty high recognition among all users. Just do as the follows:
Step 1, download and run the PDF to Word Converter
Just try free download 4Media PDF to Word Converter, and install it.
Double-click the icon to launch the program.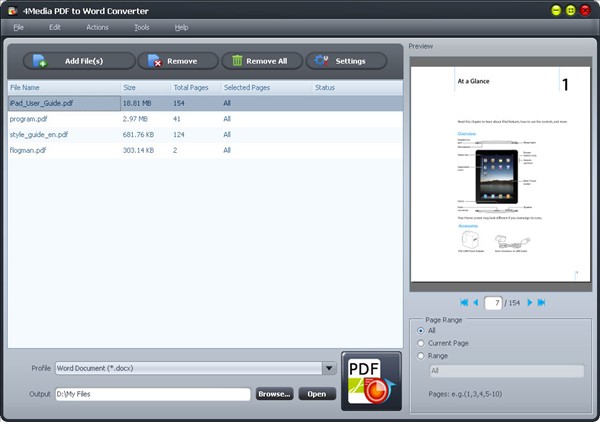 Step 2, import PDF files into the program
Click on Add Files button to browse and select the files. Or you can simply drag the files to the converter.
You can batch convert PDF to Word at a time and all the file information will show on the main panel.
Step 3, choose the destination folder and convert files
Click on the Browse button on the bottom, and choose the destination folder. Then click on the button on the right and begin to convert files. Just wait a few second it will be done.
Now you know how to convert PDF to Word doc is so easy. Also check out the following PDF conversion tips if you have questions on:
How to convert PDF to PowerPoint?
How to convert PDF to Image?
Featured Tips