Current Page:
Home
>
Guide
> Tutorial: How to Create MP4 iPod Video from DVD, convert DVD to iPod video - Mp4 Converter

Tutorial: How to Create MP4 iPod Video from DVD, convert DVD to iPod video - Mp4 Converter
Many people are trying very hard to seek ways to play our favorite DVD movies on iPod, but they are not always so lucky. Today I will introduce a good way to convert DVD to iPod MP4 to everybody here.
Before we start, you have to include below software.
1. DVD Decrypter
2. ImagoMPEG-Muxer
3. 3gp converter
4. Win-AP
5. iTunes
Besides, here are some things that would be nice but not required.
1. Mac mini w/ HDTV and external HD
2. iPod Video /w Dock
Step 1
Now, everything is ready, firstly download all the software listed above, for item 1&5 which need to be installed, install them. Then put your DVD in the DVD drive, run DVD Decrypter which we just now installed. Click Mode and check IFO, you will see a picture like below.
Step 2
Next click the Stream Processing tab. (Attention be paid to the red marked part.)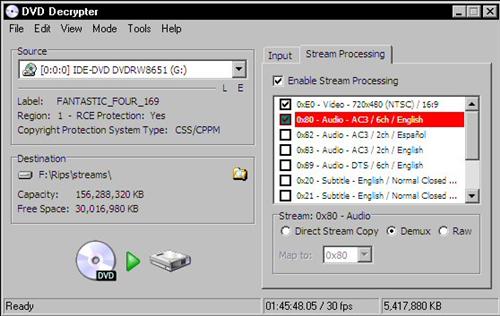 Step 3
Uncheck all the boxes except for the video stream and the audio stream of your choice.
Highlight each stream and click the demux radio button for each.
Then click the dvd to HD icon on the left bottom.
Step 4
After it is done, open the folder that the files were converted to.

Step 5
Rename the two files to Fantastic_4.m2v & Fantastic_4.AC3.

Step 6
Mux the two files back together into a single mpeg file.
Run ImagoMPEG-Muxer .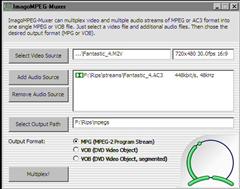 Step 7
Click the "select video source" button. Select the m2v file. The audio file should be auto-loaded.
Click the radio button beside MPG (mpeg-2 program stream).
Click Multiplex.
After it finished multiplexing, close this window.
Now it's time to setup 3gp converter.
Open up the setup file.
This window will appear.
Step 8
Click the drop down box and select English.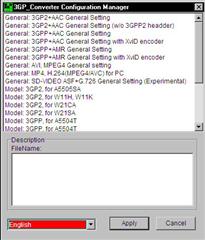 Step 9
Next select the iPod option in the main list.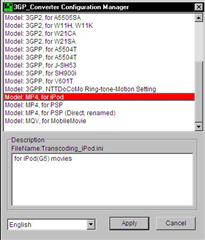 Step 10
Click "apply" button.
This window will appear.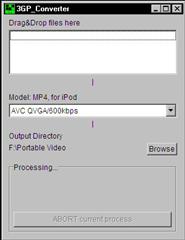 Step 11
In the drop down box select the 600 kbps option.
Now drop muxed Mpeg file into the top window.
It will start converting automatically. if you have more files you can also drop them in the window, they will convert automatically one by one.
Then iTunes will launch and the file will be added to the library.
Delete the file from the libraryit's too soon for it to be in the library.
next launch win-ap.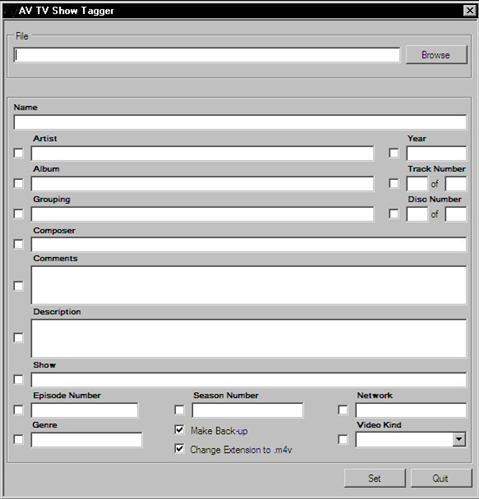 Step 12
Click browse and pick the fantastic_4.M4V file.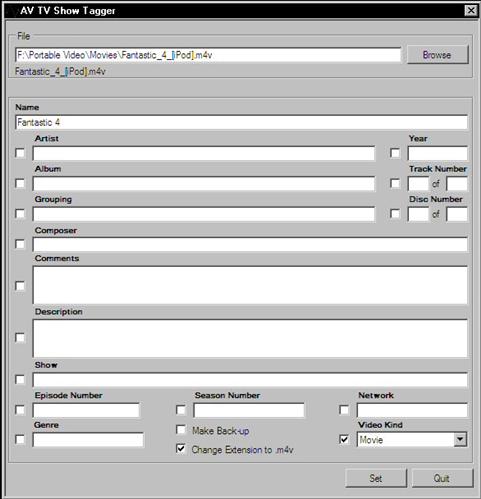 Step 13
Enter any info you want into the text boxes.
Select Movie from the drop down box.
Make sure Make backup is unchecked.
Next click Set.
A red progress bar will go across the window. after it is finished all the text boxes will clear.
Exit the program or tag other files you have created.
Now go back to iTunes and hit ctrl+O .
Open the new fantastic_4.m4v .
It should now appear in the itunes libraryexactly as it should.
Well that's it. We have successfully made a MP4 movie from DVD. Now you can play this fine movie on any iPod video or use the dock to connect it to the tv. You can also use the new Mac mini connected to an HDTV and use the Frontrow software as a multimedia center. The external hard drive is good for storing all you videos.