iPhone 5 Launch; Leaked Best Buy document hints at release date.
Earlier today a leaked Best Buy promotional document gave the first solid indication of the release date of the upcoming iPhone 5. The document suggests that a possible announcement could be made this week regarding an early October launch.
The leaked document has revealed that Best Buy and Best Buy Mobile Stores are set to start taking pre-orders this week, and that US network carrier sprint would be the launching point. Sprint has not carried an iPhone product thus far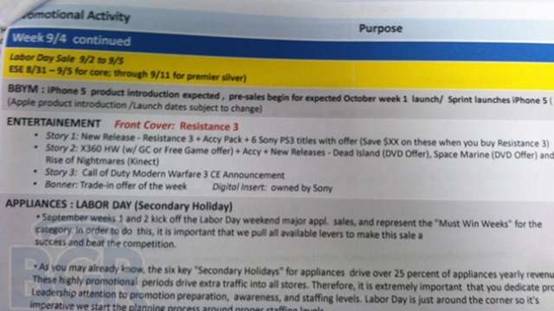 This news is set to spark frenzy amongst Apple fans, with the much anticipated iPhone 5 set to break all records for smartphones upon its launch. Other rumours indicate that Deutsche Telekom have already started taking pre-orders, in anticipation of a surge of demand for the latest model.
It is thought that this iPhone will by larger than any previous iPhone, with a 3.7 inch screen, and yet be as slim as the iPod Touch. For the moment this is all speculation until Apple make an official announcement, and they have certainly taken a clandestine approach in keeping product information under wraps.
Interested in Apple Software such as iPhone Max Platinum for Mac, and the iPhone Contacts Transfer for Mac, plus much more, please check out the links.
What to expect in the new iPhone 5
By Joe Sheldon