PST-02 sound terminal a dock for Sony PSP - Mp4 Converter
Joy to the world, another dock. This time it's not the iPod dock, but for Sony PSP. From RockRidgeSound comes the PST-02 Sound Terminal, a PSP dock that tries to make us believe that 2.1-channel stereo sound is some sort of major scientific breakthrough. The PSP dock, which will be available in both black and white, features a 2.75-inch subwoofer to drop all those low frequency, hip hop beats. Word.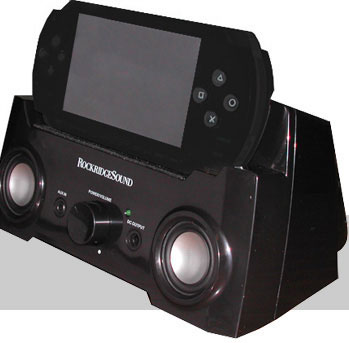 The speakers proper pump sound out at 2.4 watts, if 2.4 watts is enough to constitute "pumping." Like every other dock on this planet, it can accept other audio sources because of the inclusion of a 3.5-mm stereo input as well as charge the intended device. Jupiter be praised.
The PST-02 Sound Terminal hits Japan early August for around $68. – Nicholas Deleon
Product Page (in Japanese) [RockRidgeSound via New Launches]