Soloist Universal Media Dock is compatible with iPod - Mp4 Converter
Introducing the new Soloist Universal Media Dock for the latest generation of SIRIUS Satellite Radio plug-and-play receivers. This beautiful "media dock" uses the patented SurfaceSound flat-panel speaker technology from NXT, powered by a 10-watt-per-channel Tripath amp.
The Soloist media dock, by Directed Electronics, employs SIRIUS' new universal connector which shares the same configuration with the SIRIUS Sportster 4 (pictured) and future SIRIUS receivers. Plus, it's compatable with the Apple iPod. Awesome.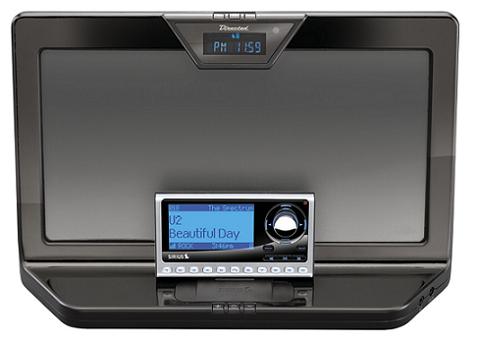 Soloist media dock comes with a SIRIUS home antenna, remote control, AC power adapter, as well as a front panel AUX IN and headphone jack, rear panel AUX IN and OUT, rear panel USB port, and a built-in alarm clock, which will wake you up to the SIRIUS channel or iPod song of your choice. (Suggestion: Hard Attack. Perfect for mornings.)
MSRP? Only $149. Available in September.