Upgraded iDo smart phones from Kinpo - Mp4 Converter
Taiwanese gadget maker Kinpo launched its iDo smart-phone brand in July 2005 and is preparing a trio of new devices to supersede its launch product, the S600 smart cellphone. One, dubbed Saturn, features a landscape-oriented QWERTY keyboard not unlike the one on the T-Mobile Sidekick III or the HTC TyTN.
Saturn - aka the SP90 smart cellphone - incorporates a 350MHz Freescale i.MX21 processor, which itself includes an embedded MPEG-4 decoder. The smart cellphone runs Windows Mobile 5.0 and contains 64MB of RAM. It's got tri-band GSM/GPRS connectivity, augmented with Bluetooth 2.0 - with stereo audio support - and 802.11b/g Wi-Fi. On the back of the smart cellphone is a two megapixel camera with 8x digital zoom feeding through to the 2.8in, 240 x 320, 262,144-colour display. There's a MiniSD slot.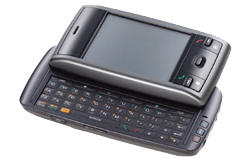 Kinpo's 'Neon' offers the same spec in a more traditional, tablet-style form-factor. It's the same shell as the iDo S600 smart cellphone, but with more up-to-date internals - the older model has a 1.3 megapixel camera, no Wi-Fi and runs Windows Mobile 2003 Second Edition.
Finally, 'Tin' differs from its stablemates with a brushed metal faceplate. Like Neon, it's a PDA-style phone, and it has the same internal specifications as Saturn.