GPS-equipped navigation smart phone MDA compact III - Mp4 Converter
HTC's upcoming GPS-equipped navigation cellphone, codenamed 'Artemis', will ship on the T-Mobile network in Germany, the carrier revealed at the IFA consumer electronics show in Berlin last week. The GPS-equipped navigation cellphone will be offered as the MDA Compact III.
This GPS navigation cellphone was snapped by German website PPC Welt, which has a number of shots of the handset, including this one: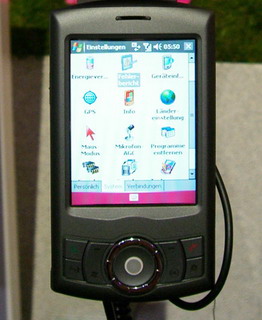 According to T-Mobile, Artemis has a two megapixel camera, along with Bluetooth, infrared and USB connectivity. The GPS navigation cellphone runs Windows Mobile 5.0. A closer look at the device reveals it contains a 200MHz Texas Instruments OMAP 850 processor, 64MB of RAM, 128MB of Flash ROM and a 65,536-colour, 240 x 320 display. It's believed to be a GSM/GPRS handset. It's not 3G, but it may have EDGE support.