DICE new Car Kit Designed for iPod, iPod car kit - Mp4 Converter
Dension has declared that it will be distributing DICE Electronics' new iPod car integration kits. DICE introduces three iPod car kits----Hard-Wired to most, Hard-Wired to CDC and Hard-Wired FM-RDS, all of three will give you the highest in sound quality, controls from your radio and steering wheel, charging for your iPod music player, unlimited playlist selections and more.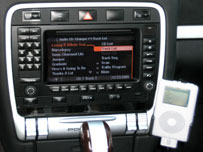 The MOST iPod car kit ($400) is for Mercedes Benz and Porsche vehicles vehicles utilizing the MOST fiber optic bus.
The CDC iPod car kit (from $160; Audi, Acura, BMW, GM, Honda, Lexus, Mini, Mazda, Mercedes, Scion, Toyota and VW) allows you to connect an iPod music player to your vehicle's factory entertainment system through the CD changer port.
The FM-RDS iPod car kit (from $160) works with all vehicles with FM radio and a universal antenna port, and offers static free FM modulation. DICE is also selling an optional $60 iPod video player cradle.