Now 5X faster with NVIDIA® CUDA TM& AMD APP
4Media has introduced NVIDIA CUDA & AMD APP technology (upgraded from ATI Stream technology) to some of its products providing better video encoding/decoding performance especially when converting high-definition videos for any PC with CUDA-enabled GPU or AMD APP-enabled GPU. Additional CPU resources can be made available when converting using NVIDIA's GPU or AMD APP GPU rather than your PC's CPU, allowing you to easily run other tasks at the same time.
CUDA/AMD APP labels have been added to conversion profiles leveraging CUDA technology/AMD APP technology. GPU encoding/decoding acceleration can be enabled once CUDA-enabled graphics card or graphics card with AMD APP technology have been detected and the processing speed can be 5 times faster.
The diagram below compares the conversion performance with and without CUDA/AMD APP enabled. The results are shown in mins.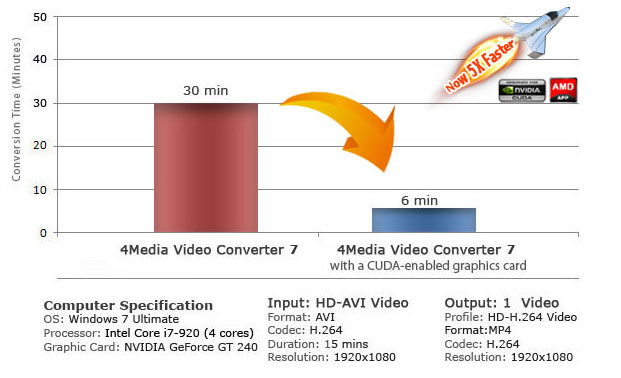 Supported Formats
Input Video Formats: AVI, MPEG, WMV, MP4, FLV, MKV, H.264/MPEG-4, DivX, XviD, MOV, M4V, VOB, ASF, 3GP, 3G2, SWF, H.261, H.264, DV, DIF, MJPG, MJPEG, DVR-MS, NUT, QT, YUV, DAT, MPV, NSV AVCHD Video (*.mts, *.m2ts), H.264/MPEG-4 AVC (*.mp4), MPEG2 HD Video (*.mpg; *.mpeg), MPEG-4 TS HD Video (*.ts), MPEG-2 TS HD Video (*.ts), Quick Time HD Video (*.mov), WMV HD Video (*.xwmv), Audio-Video Interleaved HD Video (*.avi)
Output Video Formats: all video formats with H.264 codec
Supported Graphics Card
Supported Products Include
GeForce 500 Series
GeForce GTX 560 Ti/ 550 Ti/ 590/ 580/ 570
GeForce GT 555M/ 550M/ 540M/ 525M/ 520M
GeForce 400 Series
GeForce GTX 480/GTX 470/GTX 465/GTX 460
GeForce GTX 480M/ GTX 460M/ GTX 470M/ GTX 485M
GeForce GT 445M/ 435M/ 420M/ 415M
GeForce GTS 450/ 450*

GeForce 300 Series
GeForce GT 340/GT 330/GT 320/315/310
GeForce GTS 360M/GTS 350M/GT 335M/GT 330M/GT 325M/310M/305M
GeForce 200 Series
GeForce GTX 295/GTX 285/GTX 285 for Mac/GTX 280/GTX 275/GTX 260/GTS 250/GT 240
/GT 220/210
GeForce GTX 285M/GTX 280M/GTX 260M/GTS 260M/GTS 250M/GT 240M/GT 230M
GeForce 100 Series
GeForce GTS 150/GT 130/GT 120/G100
GeForce GTS 160M/GTS 150M/GT 130M/G210M/G110M/G105M/G102M
GeForce 9 Series
GeForce 9800 GX2/9800 GTX+/9800 GTX/9800 GT/9600 GSO/9600 GT/9500 GT/9400GT
GeForce 9800M GTX/9800M GT/9800M GTS/9800M GS/9700M GTS/9700M
GT/9650M GS/9600M GT/9600M
GS/9500M GS/9500M G/9400M G/9300M GS/9300M G/9200M GS/9100M G
GeForce 9400/9300 mGPU
GeForce 8 Series
GeForce 8800 Ultra/8800 GTX/8800 GTS/8800 GT/8800 GS/8600 GTS/8600 GT/8500 GT
/8400 GS
GeForce 8800M GTS/8700M GT/8600M GT/8600M GS/8400M GT/8400M GS
GeForce 8300/8200/8100 mGPU
Quadro Desktop Series
Quadro FX 5800/FX 5600/FX 4800/FX 4800 for Mac/FX 4700 X2/FX 4600/FX 3800/FX 3700/FX 1800/FX 1700/FX 580/FX 570/FX 470/FX 380/FX 370
Quadro CX/6000/5000/4000/NVS 450/NVS 420/NVS 295/NVS 290/ NVS 300 /Plex 7000/Plex 2100 D4/Plex 2200 D2/Plex 2100 S4/Plex 1000 Model IV
Quadro 2000D/ 2000/ 600

Quadro Mobile Series
Quadro FX 3800M/FX 3700M/FX 3600M/FX 2800M/FX 2700M/FX 1800M/FX 1700M/FX 1600M
/FX 880M/FX 770M/FX 570M/FX 380M/FX 370M/FX 360M
Quadro 5010M/5000M/4000M/3000M/2000M/1000M /NVS 5100M/NVS 3100M/NVS 2100M/NVS 320M/NVS 160M/NVS 150M/NVS 140M/NVS 135M/NVS 130M
Tesla Workstaion Series
Tesla C2050/C2070/C1060/C870/D870
Tesla Data Center Series
Tesla M2050/M2070/M1060
Tesla S2050/1070/870

ATI RadeonTM HD 4000 Series
ATI RadeonTM HD 4650/4670/4770
ATI RadeonTM HD 4830/4850/4870/4890
ATI Mobility RadeonTM HD 4830/4850/4860/4870
ATI Mobility RadeonTM HD 4300/4500/4600
ATI RadeonTM HD 5000 Series
ATI RadeonTM HD 5450/5550/5570
ATI RadeonTM HD 5670/5750/5770
ATI RadeonTM HD 5830/5850/5870/5970
ATI Mobility RadeonTM HD 5145/5165
ATI Mobility RadeonTM HD 5430/5450/5470/5650
ATI Mobility RadeonTM HD 5730/5750/5770
ATI Mobility RadeonTM HD 5830/5850/5870
ATI RadeonTM HD 6000 Series
ATI RadeonTM HD 6750/6770/6790/6850/6870/6950/6970/6990

ATI FireProTM Series
ATI FirePro V9800/V8800/V8750/V8700/V7800/V7750
/V5800/V5700/V4800/V3800/V3750
ATI FireStreamTM Series
FireStream 9270/9250

ATI Mobility FireProTM Series
ATI FirePro M7820/M7740/M5800

ATI Mobility RadeonTM HD 500v Series
ATI Mobility RadeonTM HD 530v/540v/550v/560v