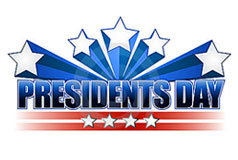 Hint, hint......pass this discount along to your special someone" Dear American Friends, Happy President's Day.
Winter is fading and Spring is waking. In the upcoming President's Day weekend, let's gather at the table, rise your goblet, in honor of our great George Washington and all American presidents.
Take An Addltional
30% OFF
Feb 17-20, 2012
Download YouTube video and convert them to the most popular videos formats.
A versatile video and DVD software package for DVD fans.

Convert FLAC audios into other audio formats, like convert flac to mp3.
Convert and transfer multimedia files into iPod, iPhone.